>

Deacon Nathan Allen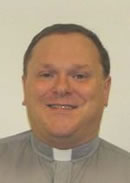 Deacon Nathan Allen was raised in Japan, the son of Protestant missionaries. He discovered the Catholic faith while in college, and after a few years of fence-sitting, was received into full communion with the Catholic Church twenty years ago this Easter, and was ordained a deacon in 2000. Deacon Allen is married, with three children (ages 20, 16, and 9). A lawyer by training, Deacon Allen practiced law for a few years, worked for Minnesota House of Representatives during the four years of the Ventura administration, and was then appointed to the Metropolitan Tribunal (the Archdiocesan court of canon law) where he has served for the past six years as a judge. Deacon Allen is currently working on an annotated edition of Hilaire Belloc's novel

The Four Men.
Back to Speakers
---

Pine Valley Associates, Inc.
PVA provides expertise in software development, user experience, communications strategy, Search Engine Optimization (SEO), Internet marketing and systems integration to provide innovative, quality solutions and deliver superior customer satisfaction.
---