>

Stephen Heaney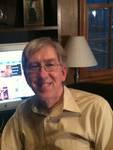 Stephen J. Heaney is associate professor of philosophy at the University of Saint Thomas in Saint Paul, MN, where he has been teaching since 1987. He received his BA from the College of the Holy Cross in 1979, and his PhD from Marquette University in 1988. Besides regularly teaching introductory courses (Philosophy of the Human Person, Introductory Ethics), he also teaches courses in Contemporary Social Issues, Political Philosophy, and the Thought of Thomas Aquinas. He is a senior fellow in the Terrence J. Murphy Institute for Catholic Thought, Law and Public Policy, a joint venture of Catholic Studies and the School of Law.

His only book to date is an anthology entitled Abortion: A New Generation of Catholic Responses (1992), though he has otherwise published in The Human Life Review, Homiletic and Pastoral Review, The Thomist, The Catholic Lawyer, and the National Catholic Bioethics Quarterly, and is a regular contributor to Public Discourse, the online journal of opinion for the Witherspoon Institute. He also occasionally publishes articles in the Minneapolis Star Tribune and the Saint Paul Pioneer Press on moral issues of public importance, such as abortion, stem cell research, sex and marriage, and voting.

With his wife, he speaks several times a year to engaged couples, and both are on the archdiocesan marriage preparation board. He also serves on the Archdiocesan Bioethics Commission and the Faith in Action (Courage) Board. He serves as education advisor to Curatio, an apostolate to health care workers. He is currently working with the Minnesota Catholic Conference in support of an amendment to the state constitution declaring marriage to be between one man and one woman. He has spoken frequently on Catholic principles for voting.

His wife, by the way, is fellow philosopher and St. Catherine University associate professor Anne Maloney. They celebrated their twenty-fifth anniversary in May. Their three offspring are either in or through college. Since his students are now his children's age or younger, Dr. Heaney feels old.



Back to Speakers
---

Pine Valley Associates, Inc.
PVA provides expertise in software development, user experience, communications strategy, Search Engine Optimization (SEO), Internet marketing and systems integration to provide innovative, quality solutions and deliver superior customer satisfaction.
---