>

Terence Nichols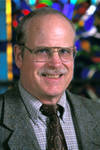 Dr. Terence Nichols is Professor of Theology and former chair of the Theology Department at the University of St. Thomas, where he also is Co-Director of the Muslim Christian Dialogue Center. He teaches courses in Christian theology, science and theology, and death and afterlife. His book, Death and Afterlife: a Theological Introduction, was published in 2010, by Brazos Press. He is the author of two previous books: The Sacred Cosmos, (Brazos Press, 2003), and That All May Be One: Hierarchy and Participation in the Church (Liturgical Press, 1989), as well as a number of journal articles. He is the father of three children. His wife, Mabel, owns the Coats of Many Colors, an import shop on Grand Ave. in St. Paul.
Back to Speakers
---

Pine Valley Associates, Inc.
PVA provides expertise in software development, user experience, communications strategy, Search Engine Optimization (SEO), Internet marketing and systems integration to provide innovative, quality solutions and deliver superior customer satisfaction.
---