>

Dr David Anders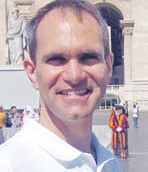 Dr. David Anders – David was raised in the PCA. He and his wife completed their undergraduate degrees at Wheaton College in 1992. He subsequently earned an M.A. from Trinity Evangelical Divinity School in 1995, and a Ph.D. from The University of Iowa in 2002, in Reformation history and historical theology. He wrote his dissertation on John Calvin. His dissertation is titled "Prophets from the ranks of shepherds: John Calvin and the challenge of popular religion (1532–1555)." He has taught history and religion in Iowa and Alabama. He was received into the Catholic Church in 2003. He currently resides in Birmingham, Alabama with his wife and five home-schooled children (ages 1-14).
Back to Speakers
---

Pine Valley Associates, Inc.
PVA provides expertise in software development, user experience, communications strategy, Search Engine Optimization (SEO), Internet marketing and systems integration to provide innovative, quality solutions and deliver superior customer satisfaction.
---