http://www.leroyhuizenga.com/
>

Leroy Huizenga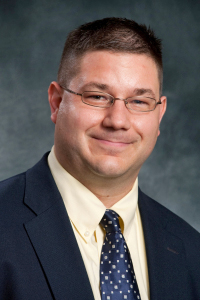 Dr. Leroy Huizenga is Chair of the Department of Theology and Director of the Christian Leadership Center at the University of Mary in Bismarck, N.D. A native of Minot, N.D., Dr. Huizenga has a B.A. in Religion from Jamestown College (N.D.), a Master of Divinity from Princeton Theological Seminary, and a Ph.D. in New Testament from Duke University. During his doctoral studies he received a Fulbright Grant to study and teach at Johann Wolfgang Goethe-Universität in Frankfurt, Germany. After teaching at Wheaton College (Ill.) for five years, Dr. Huizenga was reconciled with the Catholic Church at the Easter Vigil of 2011.

Dr. Huizenga is the author of The New Isaac: Tradition and Intertextuality in the Gospel of Matthew and co-editor of Reading the Bible Intertextually, and has lectured on Scripture throughout the United States and abroad.

Long engaged in ecumenical dialogue, Dr. Huizenga has served as a minister, as the liturgist and preacher for the German-language service at St. John's United Church of Christ in Naperville, IL, and as program director for Park River Bible Camp in Walsh County, ND. Dr. Huizenga is available to come speak at your church, school, organization or group about a variety of topics concerning leadership, Christian faith, theology, the Bible, religion, and culture.

Dr. Huizenga is married to Kari and has two children, Hans Arnold (4) and Miriam Anne (2). He and his wife enjoy gardening, hiking, reading, and spending time with friends. Dr. Huizenga himself is passionate about fishing, attempting to spend every spare moment hunting the elusive walleye.
Back to Speakers
---

Pine Valley Associates, Inc.
PVA provides expertise in software development, user experience, communications strategy, Search Engine Optimization (SEO), Internet marketing and systems integration to provide innovative, quality solutions and deliver superior customer satisfaction.
---