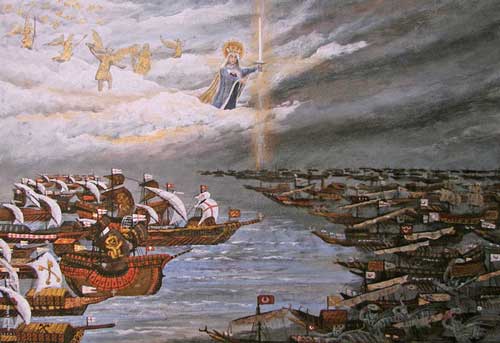 On October 7, 1571, in the Gulf of Lepanto the war galleys of the Holy League squared off against those of the Ottoman Turks, rowed by tens of thousands of Christian slaves. The battle decided the future of Europe, yet few Europeans (and even fewer Americans) know the story, much less how close Western Europe came to suffering an Islamic conquest.
Christopher Check, Director of Development for Catholic Answers and U.S. Marine Officer, believes that Europe and America without Christ are emptied of meaning and that Islam, is on the rise again.

As the political and religious conflicts of the 16th-Century tore Europe asunder, the Turk threatened to devour Christendom. She was saved only by the daring of Don John of Austria, the faith of Pope Saint Pius V, and the intercession of the Blessed Virgin. What will save the Christian West today?
Today with our own U.S. embassies in flames, we must never forget:
» Join us for the Argument of the Month's national kick-off of its newest venue in Forest Lake, Minnesota

» Fathers, bring your sons!

Let them hear this true story of Christian valor. Help them understand what it means to be a Soldier of Christ.
Argument of the Month Forest Lake
St. Peter's Catholic Church
1250 South Shore Drive, Forest Lake, MN 55025
For More Info:
kent@aotmclub.com