So, what do you think? Is Donald Trump really the conservative, pro-lifer he says he is? Maybe, maybe not. Right? On the other hand, we know absolutely that Hillary Clinton is about as pro-life as Joseph Stalin.

So, what are we Catholic men supposed to do on Tuesday November 8? Sit it out? Vote for the lesser of two evils (which the Church teaches Catholics can NEVER do)?

Can Catholic men in good conscience vote for the reality TV guy and New York billionaire —just because he's not Hillary? Is it better to vote for Hillary Clinton? The Libertarian? The Green Party candidate? ANYONE but Trump?

We need to figure this out.

At the next Argument of the Month, two Catholic conservatives are going to slug it out.



Former presidential candidate, U.S. Ambassador under President Ronald Reagan

and internationally renowned speaker and television commentator,

Dr. Alan Keyes

vs.

American Catholic Lawyers front man and well-known radio and TV commentator,

Christopher A. Ferrara


One will argue that Catholic men are more or less obligated to vote for Trump, while the other will say that good Catholics could never pull the lever for such a charlatan.

Which is which? What does the Catholic Church teach? And where do you come down on arguably the most important election in 30 years?

Don't miss the next Argument of the Month—taking place just one month before the most important presidential election in thirty years!

Educate yourself. Meet a nationally-known celebrity. Smoke a cigar. Have a beer. And catch a debate that dominates the national headlines.

Note: We are expecting a high turn out for this event. You can Purchase Tickets in advance to ensure a seat at the debate.



Season Pass 2016-17

will be sold at the November 2016 AOTM event.



2015-16 season passes honored through Nov 2016!


Because AOTM had to cancel two events last season we will honor 2015-16 Season Passes through the November 2016 event. We do our best to keep costs low and affordable so as many can come as possible. However we are expecting to fill to capacity and therefore seating is limited. I am not able to hold seats open for season holder in case they show. I need to fill the seat to pay the cost of the event. If you are a season pass holder of 2015-16 you must email both jteske@aotmclub.com and kent@aotmclub.com to RSVP for the October 2016 event. I am doing this to avoid an email getting lost. This will not be required in Nov. Show up in November and present your card to the doorman as usual. Also our costs for the October 2016 event is much higher given the speakers and outdoor activities. Therefore the ticket price is more than usual for this October event and ask you pay $5 at the door (2015-16 Season Pass holders only). If you have questions please contact me kent@aotmclub.com Thank you and God Bless!


AOTM Cigar Raffle!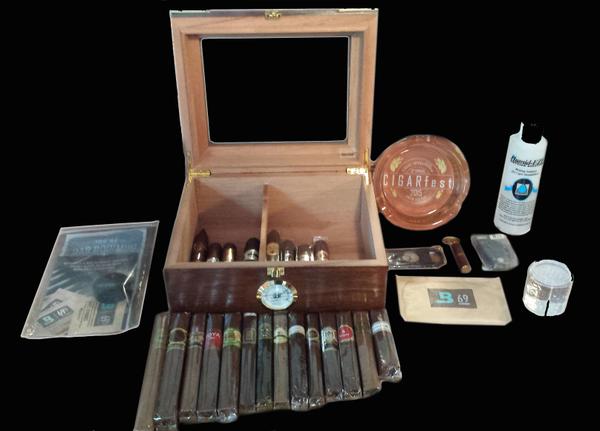 The AOTM October raffle grand prize is worth over $300 MSRP, and includes a desktop humidor pre-stocked with premium cigars and accompanied by accessories. This is a terrific starter set or desktop showpiece for the avid tobacconist!
GET TICKETS IN THE SMOKING TENT!
Prize pack (Above) includes:
Glass topped desktop cigar humidor (holds 30 cigars comfortably)
Cigar Caddy crystal gel humidifier
Humideze solution for humidifier
Rosewood cigar punch cutter
Guillotine cigar cutter
Tornado single flame butane torch lighter (butane not included)
Cigar Fest 2015 crystal ashtray
Hydroset adjustable digital hygrometer
22 cigars, including well-known brands like Drew Estate, Partagas, La Aurora, Oliva, Alec Bradley, and many more!
The AOTM October raffle second prize pack (Below) includes:
An Ashton premium leather three-cigar carrying case, pre-loaded with Ashton House Premium cigars in natural, maduro, and sun grown wrapper varieties! This prize pack is valued at over $90 MSRP